EASY TO USE, FITTED TO YOUR FARM.
With the online feeding program RDV-4-F, you can easily develop rations, which match your farm and your herd. It doesn't matter if you feed staple feed or concentrated feed separately or an upgraded basic ration or a total mixed ration – RDV-4-F calculates a ration for each feeding system.
---
OVERVIEW OF THE FUNCTIONS
self-explanatory handling – through assistance function

facts and no general rules - calculating with current data from milk recording

fitted to the herd - determine thresholds for feed intake and ingredients

health begins with feeding - display somatic cell count and concentration of urea for individual animals and groups

avoiding hyperacidity of the rumen - set upper limits for concentrated feed ratio and amount

stay economical - calculate costs of the ration per day and per kilogram milk

useful selection - large data base for staple, mineral and concentrated feeds

with declaration - current mineral and concentrated feeds of the manufacturer fitted to the farm – simply register your own compound feed

data transfer instead of manual input - import results of feed analyses

keep track of your feeding - save and retrieve rations for different groups
---
Online feeding program RDV-4-F – a different approach – your advantage::
web application - always the current version - no data storage on your computer

no data backup necessary

no license fees and maintenance costs

data saved in the computer centers of dairy herd improvement associations
---
FITTED TO THE COW
You feed a herd, but each cow has its own need for nutrients. RDV-4-F uses the following animal data:
day in milk - first feeding period with an increasing amount of concentrated feed, decrease at the end of the lactation, highly pregnant cows with a lower intake of dry matter

number of lactations - young cows with a lower feed intake than full-grown animals

breed and weight - individual feed intake because of different capacity of the rumen and behavior of the cows

milk yield and milk content - filtering of extreme values of fat and protein, energy supply according to performance
---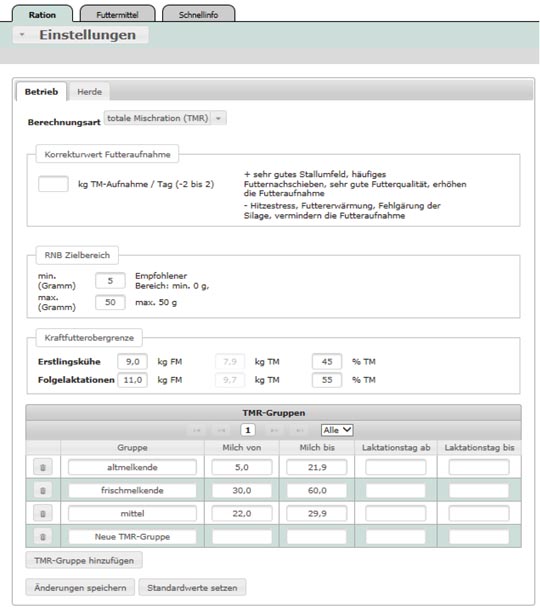 ---
KNOWLEDGE FOR PROFESSIONALS – MORE THAN ENERGY AND PROTEIN
The feeding program RDV-4-F takes also into account: All carbohydrates, vitamins, trace elements, structure value of the ration, balance of kations and anions (DCAB-value)
---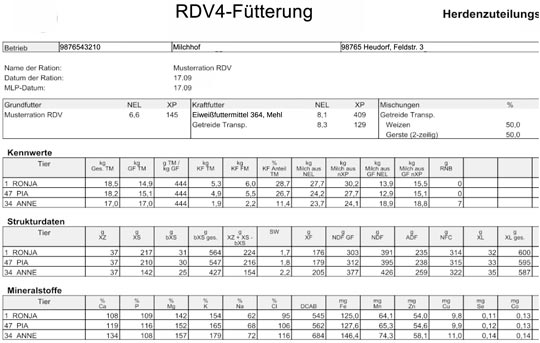 ---
HOW THE RATION GETS IN THE COW
Lists for mixing the separate feeding components with percentages and amounts help to mix the ration without conversions. RDV-4-F takes the volume of your mixing equipment into account and if necessary distributes the whole amount across several mixtures. The supply of mineral compounds of each individual can be calculated and compared with target values. The allocation list for concentrated feed can easily be sorted by number of the cow, name of the cow, milk yield or amount of concentrated feed.
---