Development of databases and design of user interfaces for dairy farms using expert knowledge and practical know-how
---
FARMER TO FARMER – EXPERIENCE MATTERS
For larger dairy farms it is nearly impossible to obtain all the necessary data required in the cattle business. RDV applications assist farmers with modern database technology by giving them an overview over each individual animal in the corral.
---
500 MILLION RECORDS IN ONE UNIFORMLY STRUCTURED DATABASE
RDV offers a data platform that saves all the information coming from different sources within cattle production. The heart piece is an Oracle database with a relational data model.
---
ANIMAL DATA – CLEARLY ARRANGED
Thanks to this live database farmers receive exact evaluations on each animal online anytime they need them and therefore can monitor individual health and performance better. Data can also be entered into mobile devices directly behind the cow. Furthermore, it is possible to compare businesses with each other anonymously.
---
REAL-TIME SERVICES AND ANALYSIS WITH HIGHEST DATA INTEGRITY
RDV databases are constantly active. Data may be recorded at any time of the day and will be implemented directly in analyses and evaluations. Farmers, controllers, consultants and veterinarians therefore always have access to the most recent information.
---
EASY TO USE AND FORWARD-LOOKING
It is our goal and mission to make farmers' work easier. Today we are working on new solutions for the mobile devices of tomorrow, on further networking possibilities and graphic designs.
---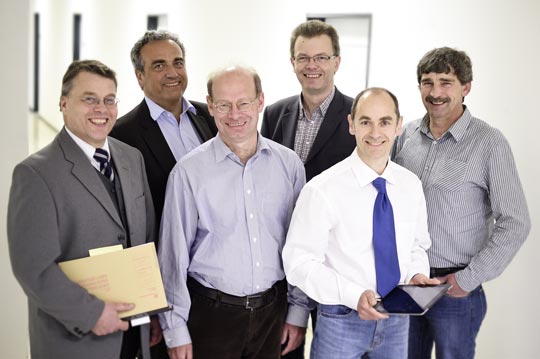 Your RDV-team - IT- and databank solutions by experts for experts:
Dr. Jörg Piepenburg, LKV SH; Martin Ehrhart, Plandata GmbH; Dr. Jürgen Duda, Geschäftsführer RDV; Martin Mayerhofer, Zuchtdata, Österreich; Torsten Schmidt, LKV SH, Siegfried Kunz, LKV BW (l. to r.) Photo: VICO GmbH