VOLUNTARY HEALTH MONITORING OF DAIRY CATTLE HERDS
DThe partner organizations of RDV provide voluntary health monitoring of dairy cattle herds in cooperation with veterinarians.
All veterinary results and observations by the farmers are linked with the data of milk performance tests. The online application RDV-4-T – Rinderdatenverbund for veterinarians – supplies veterinarians with the refined data for each individual business at hand. RDV-4-T is an indispensable tool for integrated veterinary services to produce healthy foods in accordance with animal welfare.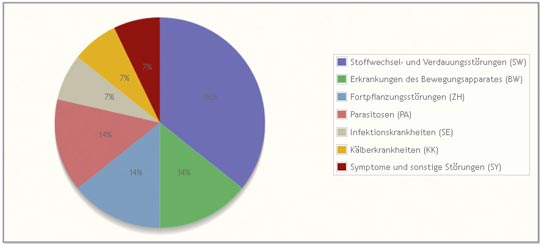 Increased prevention helps to avoid diseases and reduces the use of veterinary drugs.
RDV-4-T is used by the partners of RDV in different names:.
- LKV-Bavaria - ProGesund
- LKV-Baden-Wurttemberg – GMON-BW
- LKV-Schleswig-Holstein - KuhVital
- ZuchtData Austria – GMON-Austria
TRAFFIC LIGHT COLOR CODING – QUICK IDENTIFICATION OF DEFICITS
Animals with deficits in udder health, fertility and metabolism (quotient of fat and protein, decrease of production, urea) can be detected at a glance. The colors red, yellow and green – the colors of a traffic light – give information about the status of the animals in the separate areas. The link to the animal module enables a purposeful analysis of the results of the individual animal.
ACTION LISTS – ASSISTANCE FOR YOUR HERD MANAGEMENT
Daily action lists for udder health, fertility, metabolism and dry off facilitate herd management. Questions such as "Which animals are slated for pregnancy checking?" or "Which is the correct drying off management?" will be answered. Animals with several instances of too high somatic cell counts during the current or previous lactation, automatically appear on the "dry off" action list. Downer cows caused by hypocalcemia in the current or previous lactation appear on the action list "metabolism".

Actionlist dry off
UDDER HEALTH – ON THE TRACE OF SOMATIC CELL COUNTS
Module udder health gives information about infections in the herd during the dry period, during a lactation or over the course of years. The development in particular animal groups like cows in the first lactation, animals with chronic illness or dry cows is especially in focus.
Chart udder health
FERTILITY – RECOGNIZE DEFICITS
"How is the fertility on my farm?", this question can be answered with help of RDV-4-T. Additionally deficits in heat detection can be discovered and comparisons with the average population in the following traits can be done: age at first calving, period between calving and first insemination or the period between two calvings. The period between two inseminations is also a valuable assistance to improve the situation on the farm.
---
Overview fertility

---
Diagram fertility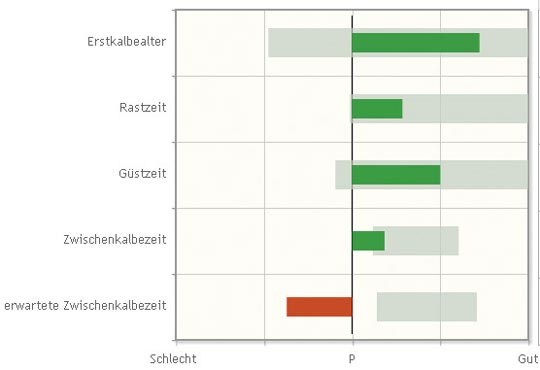 ---
Overview animals gone